W ten weekend w Olsztynie było sportowo, klubowo i rodzinnie. Był czas na wysiłek i rywalizację, na zabawę i wspólne biesiady. W sumie to szczęście, że mimo niepewnej sytuacji z pandemią COVID-19 zawody w Olsztynie odbyły się zgodnie z planem. Wiele innych zostało odwołanych.
Ten weekend był bardzo intensywny dla Tri Talent Team. W piątek Dorian Horsten wystartował w Pucharze Europy Juniorów, rywalizując z 54 juniorami różnych narodowości. Tak skomentował występ Doriana triathlonlife.pl:
Warto podkreślić, że na 14 miejscu zameldował się Dorian Horsten, który od tego sezonu reprezentuje Holandię. Jego czas 59:03. Szkoda, że już nie w biało czerwonej koszulce. Ale Dorian wyjaśnił w rozmowie z TriathlonLife.pl dlaczego podjął taką decyzję – TUTAJ.
W sobotę odbywały się 2 wyścigi: sprint (750m-20km-5km) i dystans olimpijski (1,5km-40km-10km). Na obu dystansach można było kibicować Tri Talent Team, ale tu już bardziej na luzie. To już nie to samo co "profesjonalny" i bardzo szybki wyścig piątkowy.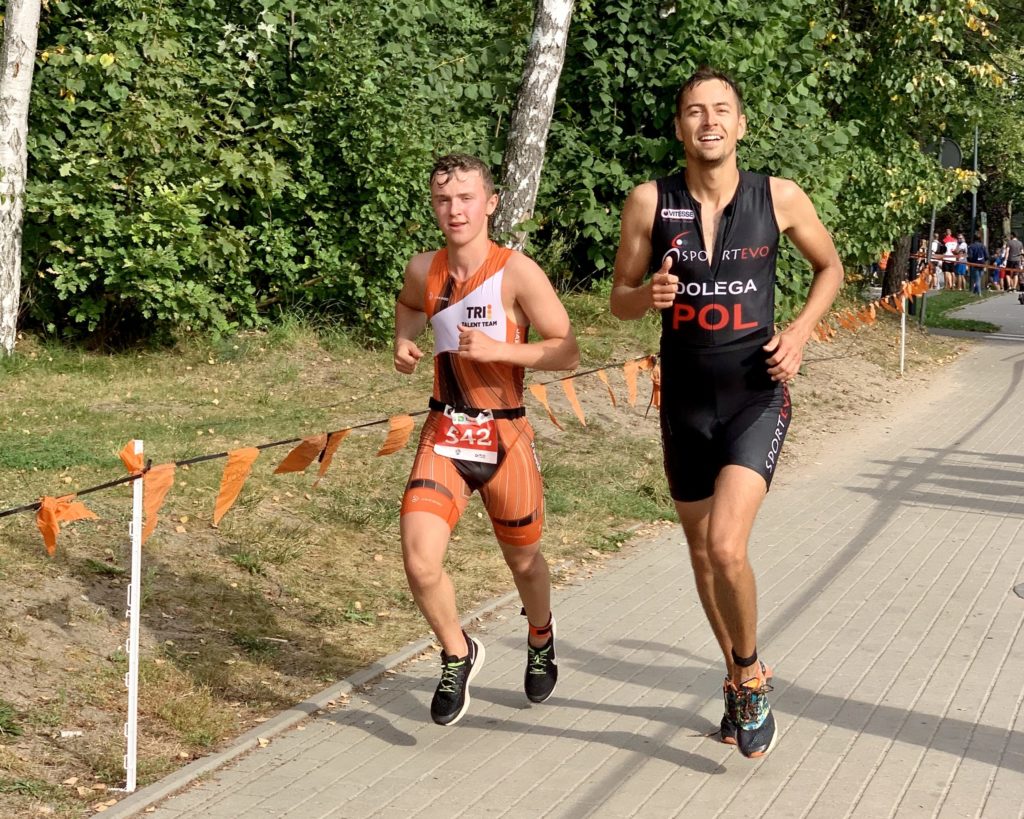 Trener Szymon Dolega rzucił wyzwanie Bastianowi Horsten na dystansie sprinterskim. Dopiero na biegu trener wyprzedził swojego podopiecznego, ale potem zdecydował zwolnić i dobiegli do mety razem 🙂 . Ale to Szymon stanął na podium w swojej kategorii wiekowej! Bastian był 7. w swojej kategorii. Tu konkurencja była zdecydowanie większa.
Kasia Szemro – prezes Tri Talent Team i mama Horstenów również zmierzyła się z tym samym dystansem i ukończyła go 4.  w swojej kategorii.
Peter Horsten – ojciec młodych Horstenów i Witek Wiśniewski – ojciec Kuby z naszego klubu obaj zmierzyli się z konkurencją na dystansie olimpijskim. Peter ukończył na 4. pozycji w swojej kategorii wiekowej, a Witek na 6.
W sobotnich wyścigach medal dostał każdy! To bardziej zabawa, rzucanie wyzwań samemu sobie i motywacja do regularnego trenowania i zdrowego trybu życia niż chęć zdobywania laurów. Choć jak się czasem zdarzy podium, też jest fajnie 🙂
W ten sposób spędzamy wspólnie aktywnie i przyjemnie czas, jednocześnie wspierając naszą młodzież, która czasem ma większe sportowe marzenia, tak jak na przykład Dorian Horsten.